ANSON SEABRA: una data in Italia a maggio 2024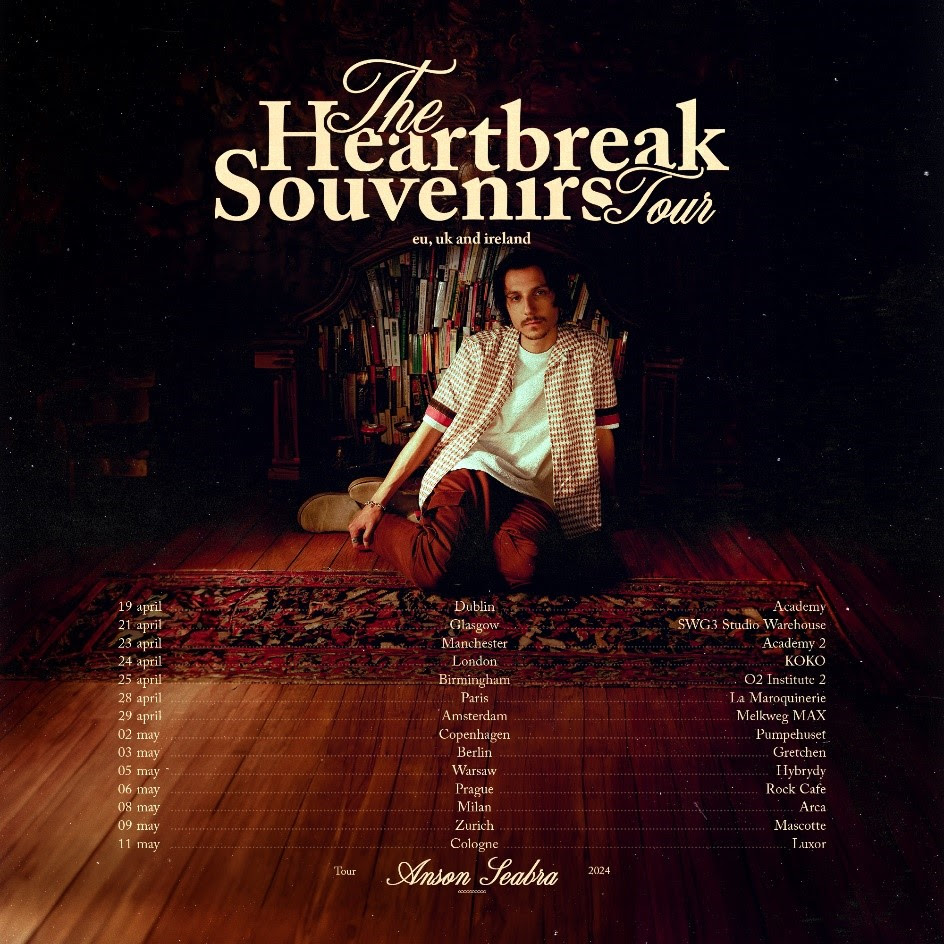 Comunicato stampa Live Nation:
A grande richiesta arriva in Italia il cantautore americano ANSON SEABRA: l'artista, in vetta alle classifiche streaming, annuncia oggi le date europee del suo nuovo "The Heartbreak Souvenirs Tour", che farà tappa in Italia mercoledì 8 maggio 2024 all'Arca di Milano per un unico imperdibile spettacolo.
Gli appuntamenti prenderanno il via in Irlanda: il tour si aprirà il 19 aprile a Dublino e il 21aprile a Glasgow, per poi fare tappa a Manchester, Londra e Birmingham rispettivamente il 23, 24 e 25 aprile. Dall'Inghilterra l'artista si sposterà poi in tutta Europa, arrivando il 28 aprile a Parigi, il 29 aprile ad Amsterdam, il 2 maggio a Copenaghen, il 3 maggio a Berlino, il 5 maggio a Varsavia, il 6 maggio a Praga, il 9 maggio a Zurigo e, infine, l'11 maggio a Cologne.
Anson Seabra, nato a Los Angeles, vanta già oltre 1 miliardo di stream solo su Spotify. Dopo aver fatto il botto nel 2018 con la hit "Welcome to Wonderland"(oltre 185 milioni di stream), Anson ha proseguito con "Walked ThroughHell", che è stata recentemente certificata oro negli Stati Uniti con oltre 130 milioni di stream su Spotify, accompagnata anche da una speciale performance televisiva live al The Ellen Show. Dopo un primo tour di successo negli Stati Uniti nella primavera del 2022, Anson si è unito a Dean Lewis in un tour europeo di oltre 25 concerti nell'autunno dello stesso anno. I brani pubblicati di recente, a partire da "Christmas List", hanno tutti raggiunto la top 5 delle classifiche cinesi DSP occidentali e la sua musica è apparsa nelle playlist Hot Hits International, It's a Hit!, Chill Hits, Pop Rising, Soft 10's Best-of-the-Decade playlist, Grey's Anatomy e altro ancora. La scorsa primavera (2023), Anson ha intrapreso un tour di 15 concerti in Europa, Regno Unito e Irlanda. Poi, nel corso dell'estate (2023), ha completato un tour da headliner in Asia. Recentemente, in autunno (2023), ha pubblicato il suo attesissimo album, A Heart Is a Terrible Thing to Break.
I biglietti saranno disponibili in anteprima per gli utenti My Live Nation dalle ore 10.00 di mercoledì 8 novembre.
Per accedere alla presale basterà registrarsi gratuitamente su www.livenation.it. La vendita generale dei biglietti sarà aperta a partire dalle ore 10.00 di venerdì 10 novembre.