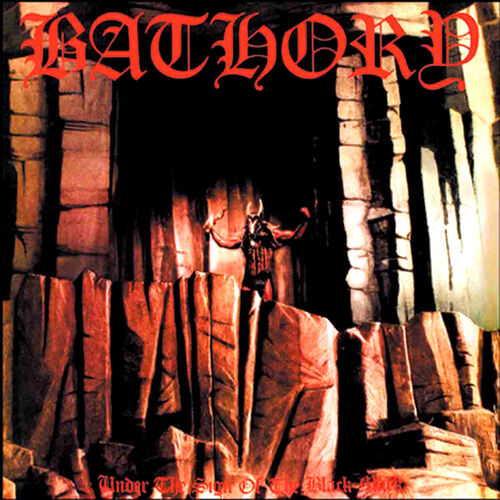 Under The Sign Of The Black Mark
I Bathory sono fra le prime one man band nella storia del metal; infatti, sin dall'esordio omonimo del 1984 sarà lo svedese Quorthon (1966 – 2004) a occuparsi di quasi tutto, dalla scrittura alla registrazione dei dischi (ma chi glieli produceva era il padre!), relegando gli occasionali compagni a mero ruolo di contorno. Partiti come act di grezzo e primordiale black/thrash, con "Under The Sign Of The Black Mark" i Bathory realizzano una fra le più importanti pietre miliari per lo sviluppo di molta musica estrema a venire. Cronologicamente il disco dovrebbe ancora appartenere alla prima ondata del metallo nero, eppure brani come "Massacre", "Woman Of Dark Desires", "Chariots Of Fire" e "Of Doom" sanno andare oltre, prefigurando quello che accadrà a distanza di pochissimi anni in Norvegia. C'è poi "Equimanthorn", in cui lo scream di Quorthon, la velocità esasperata della batteria, il suono zanzaroso e sporchissimo della chitarra e il terribile break centrale si propongono quali diretti antecedenti del sound di Darkthrone e affiliati. È questa, probabilmente, la prima canzone black metal in senso moderno.
Comments
comments
© Riproduzione riservata.